How You Can Help
Contribute On A Regular Basis
If you would like to contribute on a regular basis please email us on
rake@rake.org.uk
.
Donate through Ebay for Charity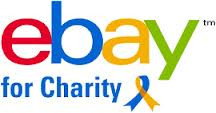 This is the most cost effective way for us to receive credit/debit card and PayPal donations. Click here to visit our PayPal Giving Fund/Ebay For Charity page. You can Gift Aid your donation (see below for Gift Aid information) and save RAKE as your favourite charity.
To get Ebay/PayPal to collect the gift aid you must have told them to gift aid any donations you make through them, click here. Alternatively we can collect the Gift Aid see below.
Donate With Credit/Debit Cards using PayPal
Givingabit
Donate while you shop!
Givingabit.com
is a website where you shop on-line and it's partner retailers make a donation to your chosen charity. There are 100's of companies involved including Amazon, John Lewis, Sainbury's, PC World to mention just a few.
You will need to register with Givingabit.com. then select RAKE as your chosen charity. RAKE can be found by typing RAKE Romanian Appeal Killearn England into their search bar. You can visit our Givingabit page by clicking here Givingabit RAKE Page.
Cheque
Please make payable to RAKE or Romanian Appeal Killearn England and post to.
RAKE
21 Woodhouse Road
Hove
East Sussex
BN3 5NA

Gift Aid
Click here
to download a Gift Aid Declaration form.
If you are a UK tax payer you can Gift Aid your donations, making them worth 25 per cent more and at no extra cost to you!
We claim back the tax you have paid on your donation (25p for every £1.00 you donate) through Gift Aid.
This additional income makes a big difference, so please Gift Aid your donations by clicking here and download our Gift Aid Declaration Form. Simply fill it in and return it to us.
For more information please click on the links below:-